First Apostolic History
Joseph Morsell Turpin was born January 15, 1888 in Denton, Maryland. He was one of twelve children born to John and Cora Turpin. Joseph, or "Morsell" as family members and friends affectionately called him, lived his early life working on a farm in Caroline County, Maryland. Joseph Turpin moved to Baltimore, Maryland as a young man about twenty-one years of age looking for work. Although he was away from home, he did not forget the strong religious teaching and training of his parents. Even then, God had a purpose for his life. Not long after his arrival in Baltimore, he began attending The Kings Apostles Church. It was here that God lead him to salvation through the ministry of Mother C.V. Gurry. Shortly after, God filled Joseph Morsell Turpin with the Holy Ghost, he accepted and acknowledged the call God had placed on his life. This began a life-long service as a minister of God's Word. God blessed his preaching and moved him into a leadership role.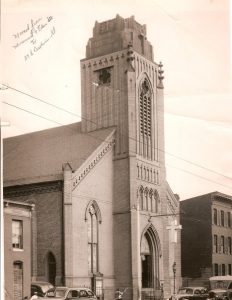 It was at Mother Gurry church that Morsell met and married Ruth Beatrice Wright. Mother Turpin was a strong, supportive and devoted wife who dedicated her life to God and her husband. Although no children were born to this union, they did offer their assistance to a young nephew, Winfield A. Showell, who was just arriving in Baltimore from Denton, MD. Winfield stayed in their home for a short while. God was still working out his plan in the life of His servant. This support and concern for Winfield would eventually lead to great results.
It was in 1917 that the "First" Apostolic Faith Church was founded in Baltimore, Maryland on the corner of Biddle Street and Myrtle Avenue. After a short time at Biddle Street and Myrtle Avenue, Bishop Turpin and his congregation moved to 311 North Gilmore Street where the living room of his small three-story row house was converted into a place of worship. Through the prayers of Bishop Turpin and financial sacrifices of parishioners, enough money was raised to relocate to a larger facility at Forrest and Lexington Streets in East Baltimore.
Through Bishop Turpin's unshakeable faith in the redemptive and keeping power of the Holy Ghost and through his preaching, teaching, fasting and praying, the church membership expanded; in 1921 the congregation moved again, but this time to a larger facility on Spring and Muliken Streets. The church remained at this location
only four years. By 1935, First Apostolic needed an even larger edifice, so the church purchased and renovated the National Theatre, located at Eden and Monument Streets. Bishop Turpin felt the need to have enlightened workers for God. He believed that it was vital that God's messengers be trained and "schooled" in God's Word in order to understand, explain, and apply it intelligently. To facilitate this belief, Bishop Turpin organized the Turpin School of the Bible in 1937.
Bishop Turpin was also served one of the founders of the Eastern District Council (Maryland, Delaware, and the District of Columbia) of the Pentecostal Assemblies of the World. As the local church continued to grow, it became the largest and most vibrant church in the Pentecostal Assemblies of the World in the 1940s.
Bishop Turpin departed this life on March 17,1943 at the age of 55, but he had imparted many of the principles and foundational teachings into his great nephew, Winfield Showell, so that the work
of the Lord would be carried on.
God's Mountain-Moving Miracles
Winfield Amos Showell was born in Frankford, Pennsylvania, on November 15, 1905. God began to work His will in the young Winfield's life. As a young man, Winfield served as a chauffeur to Bishop Turpin. It was during this time that God began to nurture the relationship between Bishop Turpin and his nephew; it became clear that Bishop Turpin was imparting wisdom that would help guide the young Winfield throughout his years of service. In 1944, when the young Elder Winfield Showell assumed the pastorate, his wife, Sister Genevieve Showell, was similarly elevated and ordained of God to pursue ministry as a minister's wife by nurturing and supporting her husband, loving and training ten children, and serving and assisting God's people. She also found time to become a charter member of the Matron's Fellowship, an association which continued for over fifty years; an ardent Sunday School scholar; the leading captain for the Annual Church Anniversary and Building Fund Drive; adviser to the Apostolic Women's Fellowship; the leading Women's Day contributor; a member of the Senior Mother's Board; and the Shepherdess for the Bible Way World Wide Clergy Wives' Association. She was the prototypical working woman in the Kingdom. She understood the urgency of the time and that her labor was for the benefit of generations to come.
Mother Showell, being filled with the Holy Ghost and of a prayerful disposition, would stand with Bishop Showell in order to lead God's people to victory. For over fifty years Mother Showell had been a tower of strength and a source of inspiration to her beloved husband, family, church and community. She unselfishly sacrificed so he could devote his time to working for the salvation of others. Mother Showell represented womanhood at its best and holiness at its finest. On October 18, 1944, the late Bishop Samuel Grimes, Presiding Bishop of the Pentecostal Assemblies of the World, installed Elder Winfield Amos Showell as the pastor of First Apostolic. Like Caleb, Elder Showell made a request of God. He made his appeal to the Lord and said: "Give Me This Mountain," which was the title of his installation sermon.
Under the leadership of Elder Showell, the first mountain called for him to find a new church home to replace the city-condemned edifice at Monument and Eden Streets. One year after being installed as pastor, Elder Showell purchased the building at 27 South Caroline Street. In a matter of months, the new edifice was debt free!
Elder Showell possessed brilliance that far exceeded his time. Under his leadership in 1945, First Apostolic initiated its Radio Ministry. The music of the Young People's Choir drew listeners in from all around the city. In fact, those who would eventually join First Apostolic would attest that it was the Radio Ministry that brought them to the church. Elder Showell also founded the Sons of Solomon Boys Club and helped secure 22 acres of choice land located near Pulaski Highway. This space would provide housing for the Boys Camp. Additionally, Elder Showell was an integral part of the establishment of the Baltimore City Juvenile Court, as a byproduct of his dedication to working with troubled youth of the city.
Although the First Apostolic Faith Church had been serving the Baltimore community since its founding in 1917, the city was to benefit even more as a result of new ministries. Soon, the church began with the construction of Apostolic Towers, a 150 unit high-rise apartment building for the elderly and handicapped. Then came Johnston Square Manor, a 64-unit moderate-income townhouse complex. Finally, there was the Berea Apostolic Towers, a 102-unit apartment complex.
Other church ministries that were established include: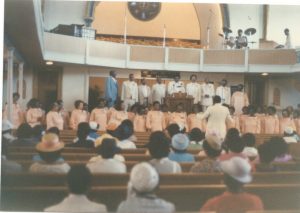 A food buying club with a membership of over 1,000 families
A Citizen's Fuel Club
A City-wide Youth Ministries
A licensed Day Care Center
An Emergency housing Center for the homeless of the city
An Emergency Food and Clothing Center
A Hospital Ministry
A Prison Ministry
The Apostolic Bible and Training Institute
A Pastoral Counseling and Referral Service
Alcoholics Victorious
In addition to these church-sponsored community ministries, Elder Showell invested much of his personal time and resources to the betterment of the city and state. He was appointed to a number of local and state boards and commissions. Among them were the Fire Department Board, the Jail Board [was this the official name?], and the Community Action Board. He was the president and founder of the Apostolic Ministerial Alliance, a member of the Interdenominational Ministerial Alliance and the Opportunities Industrialization Center of Baltimore. Elder Showell also became the Senior Vice-Presiding Bishop of the Bibleway Churches of Our Lord Jesus Christ. Like Mother Showell, Bishop Winfield understood that what God had allowed him to continue building would help sustain future generations. In 1987, he became ill, but not without the wisdom foresight to delegate his son, Bishop Cornelius Showell, to the operational and pastoral responsibilities of First Apostolic. On July 2, 1987, during the 30th Convocation of the Bible Way
Churches World Wide, District Elder Cornelius Showell was consecrated to the office of Bishop by the Episcopacy of the Bible Way Churches World Wide and by the laying on of hands of his father, Vice Presiding Bishop Winfield Showell. Bishop W.A. Showell had passed his mantle of compassion, commitment and visionary to his son, Bishop Cornelius Showell. Bishop Winfield made a petition for God to give him the mountain; God honored his request. Before his passing, not only did God Bishop Winfield receive the mountain, but he possessed it and bequeathed a great legacy to his son who would take First Apostolic to its next height.
From Our Present Into Our Glorious Future
Bishop Cornelius Showell was born on August 13, 1941. He was characterized by a sincere commitment to God and an earnest desire to live a consecrated and life. As a youth, he was known for displaying devotion and faithfulness to the ministry of his church. It was quite obvious that young Brother Neil [Did people call him this?] had a special love for God's people. The late Bishop Winfield and Mother Genevieve Showell impressed the importance of salvation and holy living upon their children; they also believed in pursuing education. After graduating from Paul Laurence Dunbar High School, Bishop Showell received a degree in history from Morgan State College and furthered his graduate studies at the University of California at Los Angeles (UCLA), the University of Maryland, and St. Mary's Seminary and University. Bishop Showell is a modern day fulfillment of the Apostle Paul's admonition to Timothy to "Study to show thyself approved unto God, a workman that needeth not to be ashamed, rightly dividing the word of truth" (2 Timothy 2:15). In addition to his stellar academic performance, Brother Neil's devotion to serve in God's house soon earned him recognition as a dynamic Young People's President, an anointed choir director, and
an ardent Sunday School worker. His thirst for the Word of God and his love of its study enabled him to minister with understanding and with power.
Recognition of Minister Showell's abilities were not confined to First Apostolic or to the Baltimore area, but he was known throughout the Mid-Atlantic region for his ability to bring people together for worship and fellowship. At the founding of the Bible Way Churches of Our Lord Jesus Christ World Wide, Minister Showell began working closely with the national organization. In 1958, he was elected to his first national office as Sergeant-at-Arms with the General Sunday School Department. He later went on to become the Executive Vice President of the General Young People's Union under the presidency of Bishop Bernard G. Battle. In 1972, Elder Showell succeeded Bishop Battle, becoming the second president of the International Young People's Union. Elder Showell held the office of President until 1979. Under his administration, new programs were implemented and improvements were made to enhance some of those programs and activities already in operation.
Having served loyally and with integrity in his calling as an Elder, God saw fit to elevate Elder Showell to the rank of District Elder [What year?]. The Executive Board of Bishops of the Bibleway Churches World Wide, under the leadership of Bishop Smallwood E. Williams, conferred on Elder Cornelius Showell the title "District Elder at Large" with assignments to the Central Maryland/Delaware Diocese and the Southern Maryland Diocese. He executed the duties faithfully and effectively while still assisting his pastor with the demanding and challenging responsibilities of his home church.
Bishop Cornelius Showell is married to the former Ella Augusta Barnette. Sister "Gussie," as she is affectionately known, is the eldest daughter of the late Mr. and Mrs. James Barnette. She has been walking with the Lord for over fifty years, having been baptized in Jesus' Name and filled with the Holy Ghost in May 1962. Like her husband, Sister Augusta is a faithful church worker; she served as a longtime member of the Echoneers Youth Choir and later the Echoneers Young Adult Choir. She was also a member of the Young People's Union, and additionally, has served as Vice President of the Willing Worker's Fellowship.  Presently, Sister Showell is the President of Partners in Ministry at First Apostolic Faith Church, the Vice President of Mid-Atlantic Ministers and Deacon Wives and Widows, and the Vice President to National Clergy Wives of Bibleway Church World Wide. Sister Showell is a prayerful, patient woman. She has proven, with God's help, to be an available asset to her husband, his ministry, and the First Apostolic Faith Church of Jesus Christ.
Professionally, Sister Augusta Showell is an accomplished cosmetologist who graduated from Apex Beauty School. She also attended Morgan State University and majored in sociology. Sister Showell is an outstanding wife and mother. Bishop and Lady are the parents of three sons: Byron (deceased), Andre, and Cornell.